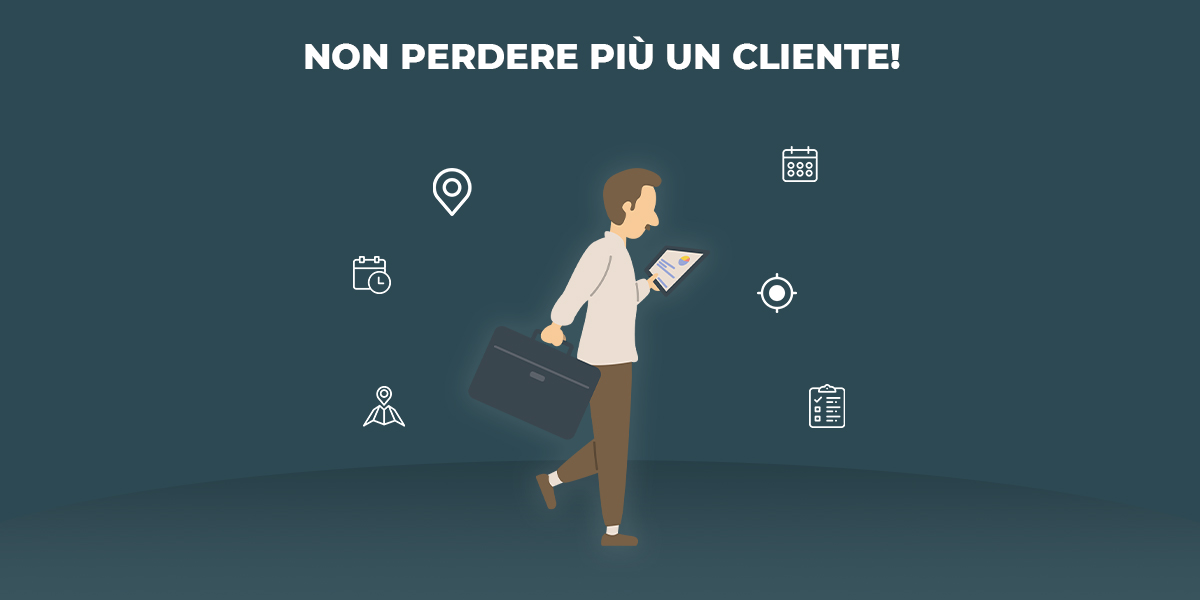 How to organize customer visits?
Visits are an activity that requires a great deal of time to sales agents: time, and energy, which should be dedicated to sales.
The organization of customer visits is in fact essential to optimize your business and your sales.
Schedule customer visits
Having full management of your visits means identifying priority customers and their location, finding potential customers, setting appointments, organizing the itinerary, keeping track of your sales objectives and the outcome of the visits.
Do you need to manage more customers in less time?
Oggi, grazie alla digitalizzazione, il giro visite dei clienti, ovvero l'agenda appuntamenti, può diventare digitale, leggera, comoda, sempre a portata di mano, così da velocizzare e migliorare il processo di vendita.
Un tempo gli agenti usavano agende cartacee, con tanto di tempo perso a cercare informazioni, fare telefonate, inviare mail, con cataloghi pesanti e ingombranti per mostrare i prodotti.
Oggi, il Giro Visite, è un'App.
Non è più pensabile affrontare una visita dal cliente senza un'accurata organizzazione.
Più clienti acquisisci, maggiore è il carico che devi gestire, quindi la domanda è: come trovare il tempo per preparare al meglio l'appuntamento?
Today, thanks to digitization, customer visits, or the appointment diary, can become digital, light, convenient, always at hand, so as to speed up and improve the sales process.
Once upon a time, agents used paper diaries, with lots of time wasted looking for information, making phone calls, sending emails, with heavy and bulky catalogs to showcase products.
Today, the Visits Tour is an App.
It is no longer conceivable to face a customer visit without careful organization.
The more customers you acquire, the greater the load you have to manage, so the question is: how to find the time to better prepare the appointment?
Effective Tour Visits
An indispensable aid for agents is the Visits Tour: an Order Sender order collection app module.
Thanks to the Visits Tour (Business Travels) of Order Sender manage and plan visits from your customers, locate their position with the interactive map.
For each appointment you can set notes, goals, and at the end of the visit fill out a survey with the outcome of the appointment to be sent to the company.
The very simple App to use, even for those who have no technical skills.
The advantages of the Visits Tour
Thanks to the Order Sender Visitor Tour you can:
Manage appointments with an App
Manage your appointments in a few clicks, with an App, so as not to lose a customer or a visit again.
Finding customers
Immediately view the location of your customers on the map, geolocating them. You can thus evaluate times and distances at a glance.
Plan visits with the digital agenda
Plan your working day in your digital agenda: reduce the time spent organizing your activities, have more time to dedicate to sales, visit more customers, in less time.
Organize the Mobile Visits Tour
Organize your tour visits from Smartphone and Tablet, even without internet. Data always updated and just a click away.
Create reports at the end of the visit
Create reports at the end of the visit to immediately send feedback to the company. After the meeting with the client you can immediately record the outcome of the appointment, your evaluations, if and how many times to return to him, your notes etc. so as to have, and share with the company, all the most important information to develop your sales strategy.
Optimize your work as an agent and your sales
You can dedicate time to improve your work and your sales strategy (which customers to work on, which products or services to offer and to whom, prices and discounts to activate, deals to close).
You save time and money, no stress
Management costs and time wasted on the phone, writing e-mails or looking for information are reduced. The stress of the agents is significantly reduced.
Free Webinar Tour Visits Order Sender
Join the Free Webinar on Business Travels.
Tuesday 13 April at 5 pm
SUBSCRIBE!
Free order collection app
Don't you know Order Sender yet, the App for order collection dedicated to sales agents and the sales network?
You can try it for free – in its full version, with the tour – for 15 days!
20 Apr 2021