Business Travels
Never miss an appointment again!
Schedule your visits, find your customers, create reports.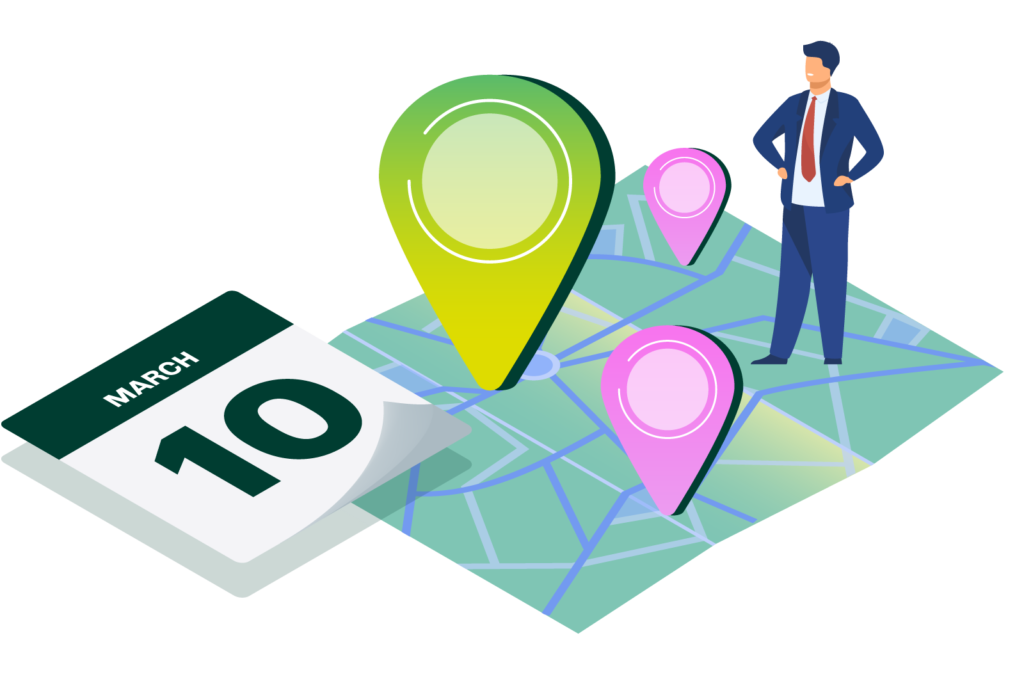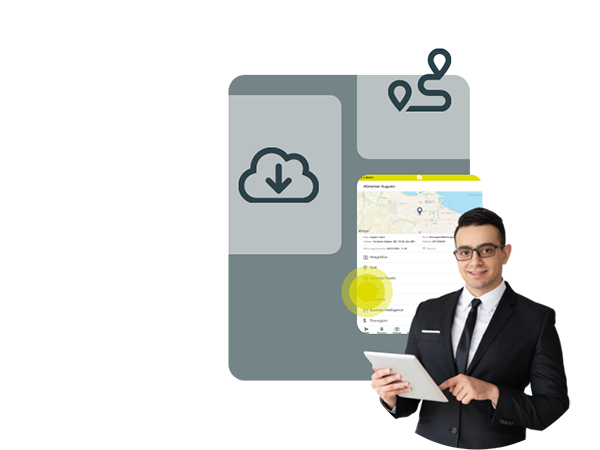 Schedule your appointments
With Business Travels Visits to customers, easily manage all appointments and sales on the go. You have your digital schedule at a glance: schedule visits in a few clicks, get all the information you need right away, always up-to-date.
Any appointment is also copied to your device calendar. In addition, if your device's calendar is visible on the Cloud, the appointment is displayed on all devices connected to your account, iOS for Apple and Google for Android.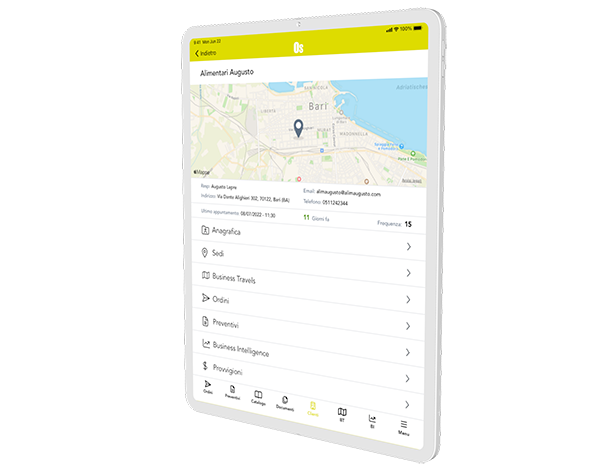 Find your customers
Geolocate your clients on the interactive map, pinpoint their location immediately, find those closest to you. Optimize your business trips and your sales activity. Give your customer perfect service and performance.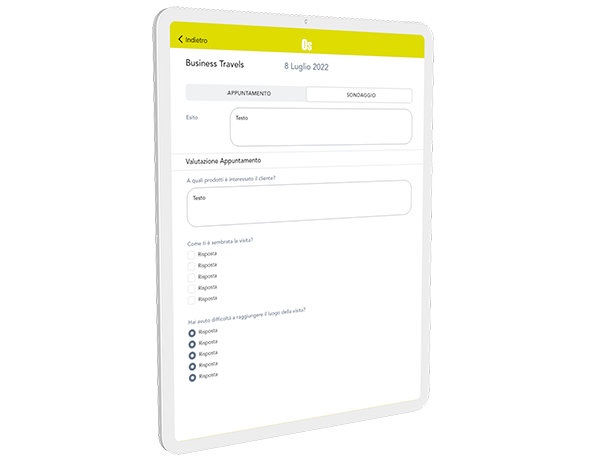 Create Reports at the end of the visit
For each appointment, you can recall the customer's primary address or a secondary address, set notes, goals and, at the end of the visit, fill out a survey with the outcome of the appointment to send to the company.
Analyze visits, sales statistics, your customers, visit frequencies, how the appointment went and when the next one will be, and improve your sales strategy
Simple and Powerful

Intuitive
Create orders from Smartphone and Tablet, in a few simple steps. Order Sender is a powerful but easy to use App, even for those without technical skills.

Work Offline
Collect orders even without an Internet connection, wherever you are. Data always available, updated and safe, thanks to Cloud backup.

Web, iOS e Android
Order Sender is developed for Apple iOS and Google Android. It can be downloaded from the iTunes Store and Google Play Store. There is also a web version that can be used from any browser.

Data integration
Corporate ERP
Order Sender integrates with any company management system, for example: SAP, AS400, TeamSystem, Zucchetti, Microsoft Dynamics/Navision, Oracle, Easydata, Systems and proprietary solutions.
CSV
All data can be imported and exported in CSV format, compatible with Microsoft Excel, Open Office, Number and any data management software.
API
Another method of data integration is represented by Web APIs. Communication interfaces that allow you to export and import data to external software.







Choose the option that best suits your business
per user, per month
Annual payment
Basic + Catalogue
Up to 8 agents
per user, per month
Annual payment
Basic + Catalogue + Variants
Up to 8 agents
per user, per month
Annual payment
Do you have more than 50 agents?
Let's decide together the most advantageous plan for your company!
Contact Us